I grew up in a sleepy little town known as DOLGEVILLE.
Some say it is a one-horse town, but as you will see from the picture below, that is not quite true...if you look closely, you will see TWO horses pulling that carriage onto the property that joins the little corner of Dolgeville owned by my parents, my brother and my late grandparents.
UPDATE: Hey GUESS WHAT??? Dolgeville won't be so 'sleepy' come June 8th & 9th, 2002....WHY? Well, because famous actor & accomplished musician David Carradine will be performing with his band, The Cosmic Rescue Team, at the Annual Violet Festival!!!! It is sure to be one hek of a PARTY that weekend...one YOU won't want to miss!!! Click on the link below to be taken to the Official Cosmic Rescue Team Website for details on how to order tickets for this sure-to-please event! :
David Carradine & The Cosmic Rescue Team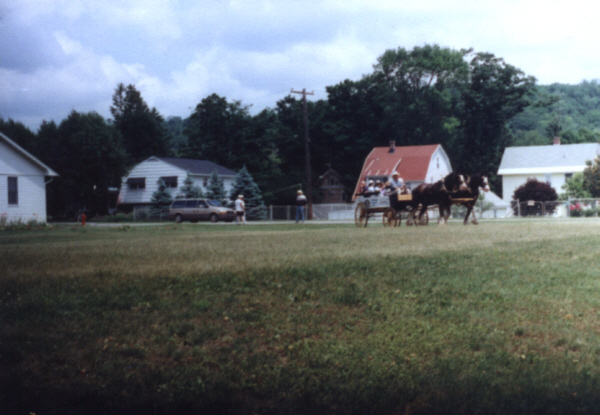 Click on the above photo to be taken to the site of Ward's Pond, which is just a hop, skip & a jump away from my parent's home.